According to a recently published joint report by the International Food Policy Research Institute (IFPRI), Concern Worldwide, and Welthungerhilfe on Global Hunger Index (GHI) demonstrates that India acquired the 100th place among the 119 countries. With the comparison of the last year, India lagged by the three position.
The country's hunger level is driven by high child malnutrition and underlines the need for stronger commitment to the social sector, according to a report from the International Food Policy Research Institute (IFPRI).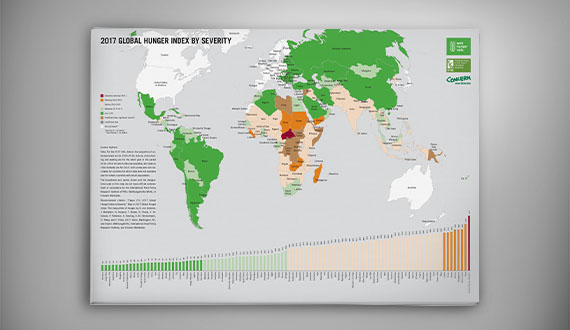 "India is ranked 100th out of 119 countries, and has the third highest score in all of Asia — only Afghanistan and Pakistan are ranked worse," IFPRI added in the report.
As per the report, India ranks below many of its neighboring countries such as China (29th), Nepal (72th), Sri Lank (84th) and Bangladesh (88th).
This stifled number can be astonished people, despite many programs has been launched over the years. And Government claimed that corruption in PDS system is diminished because of the PDS linked with AADHAR, and this system is more reliable and accessible with the comparison of the previous government. But report's facts showed the gloomy side of the Government's claims. Have a look at the data of the previous year hunger index, India is lagging behind continuously.
| | |
| --- | --- |
| Year of GHI report | Rank of India |
| 2011 | 67 |
| 2012 | 66 |
| 2013 | 63 |
| 2014 | 55 |
| 2015 | 80 |
| 2016 | 97 |
| 2017 | 100 |
The report also concerned over the worse performance of some Asian and African countries and quoted that 'While the world has committed to reaching Zero Hunger by 2030, the fact that over 20 million people are currently at risk of famine shows how far we are from realizing this vision.'
As expected many politicians reacted to this report. Rahul Gandhi was tweeted Dushyant Kumar's poem verse "If you are hungry, be patient! So what if you have no bread? Hunger is a hot topic, these days of debate in the Delhi Durbar!"
भूख है तो सब्र कर, रोटी नहीं तो क्या हुआ

आजकल दिल्ली में है जेरे-बहस ये मुद्दआ

– दुष्यंत कुमार
https://t.co/JxewmoSfHh

— Rahul Gandhi (@RahulGandhi) October 13, 2017

And as usual in response to this tweet, Smriti Irani wrote "Hey power hunger be patient, if data do not favor us what happened, in a group of selfish people, will spread defame of the country's dignity'' Despite this Irani may write the causes behind this lower GHI number but politics have a different game of the verses, for this sky also have limits.
ऐ सत्ता की भूख -सब्र कर, आँकड़े साथ नहीं तो क्या 

खुदगर्जों को जमा कर, मुल्क की बदनामी का शोर तो मचा ही लेंगे https://t.co/aCrbhZLCaX

— Smriti Z Irani (@smritiirani) October 14, 2017